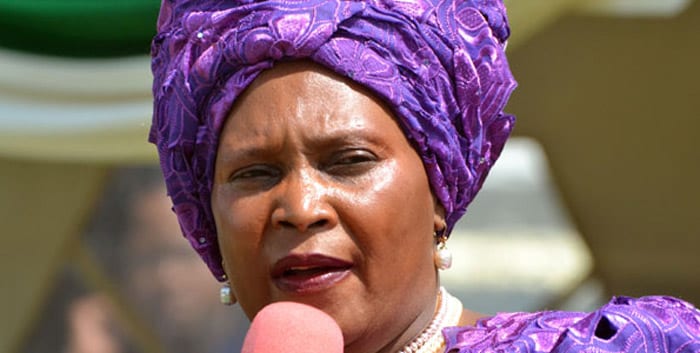 The appointment of former Othaya MP Mary Wambui as the chairperson of the National Employment Authority has elicited angry reactions among Kenyans who have argued that she is not worthy of the position assigned to her by Treasury CS Ukur Yatani.
In a Gazette Notice dated October 14, Ukur Yattani appointed Wambui as the NEA Chairperson for a period of three years with the appointment taking effect immediately.
Her appointment has led to an online revolt among Kenyans who have called out President Kenyatta and the Jubilee Government for repeatedly recycling the old to key state positions.
Among those angered with Wambui's appointment is Nominated Jubilee Senator Millicent Omanga.
According to the self proclaimed 'Mama Miradi', Wambui's appointment is a slap on the face of the many Kenyan Youths.
Omanga has argued that Wambui, being 'intellectually ungifted" does not have what it takes to head the National Employment Authority.
She has said that despite being rich, powerful and connected, the former Othaya MP does not have the necessary Academic Papers to steer forward a state department like the National Youth Authority.
"Indeed a sad day for the youth of this country… The Appointment of ex Othaya MP Mary Wambui to head National Employment Authority is a spat on the face of the Kenyan youth," Posted Omanga on her official Facebook Page.
"You can't convince me that someone who is intellectually ungifted and has limited knowledge on the intricate challenges unemployed graduates are grappling with will be in a position to craft strategies and policy formulations to help eradicate unemployment in this country"
"Does Wambui even have the remotest idea of what it feels to hold a degree certificate yet you can't find a job with it?
She is many things… Rich, Powerful,Connected and all. There are many things she is capable but not this. It's now clear that unemployment in kenya is not taken seriously," She added.
Omanga is not the only one who has taken issue with Wambui's appointment.
BELOW ARE REACTIONS FROM OTHER KENYANS
Ex-Othata MP Mary Wambui appointed the chair of National Employment Authority.
I'm mad.
I'm infuriated.
I'm disappointed!

I don't know whether to get mad because of president Uhuru Kenyatta, Mary Wambui or existence of National Employment Authority.

It's never about us! pic.twitter.com/ZuGZ0WxJ0S

— THE INCREDIBLY TERRIBLE! (@allen_arnold) October 14, 2019
In Kenya there is National Employment Authority. Kindly take a look at the MISSION. keenly take a look. Have you? Well. Today the chairperson of this Authority has been appointed by President. Her name, Mary Wambui. Former Othaya MP. She will be in charge of that MISSION 😂😥 pic.twitter.com/eRpxriJRW8

— Lord Abraham Mutai (@ItsMutai) October 14, 2019
I am not seeing the picture well, but I can tell she young and beautiful,I am going to call my entire clan to say congrats to Mary Wambui appointment as chairperson of National Employment Authority.The gvt of Kenya is really doing a great work for the youths like her. 📸Courtesy: pic.twitter.com/NruVg3GsoP

— ᎷᏗᏒᎥᎶᎥᏒᎥ🇰🇪 (@Dmarigiri_) October 14, 2019
So you want to tell me that we have a National Employment Authority in our country? What use is it for when millions of kenyans especially youths are jobless? Then Mary Wambui, ex-Othaya MP is the new chairperson? I'm dissapointed!! The govt. is busy creating jobs for the elderly pic.twitter.com/5BiRYo852r

— EldBlogger (@BloggerEld) October 14, 2019
According to http://www.nea.go.ke/web/ the National Employment Authority was established in April, 2016 by an Act of Parliament (the National Employment Authority Act 2016) which effectively provided the legal framework and mandates for its operations. The Authority was created out of the then National Employment Bureau (NEB) which was one of the Departments in the Ministry of East African Community, Labour and Social Protection. The Act therefore provided for the transitioning of the Bureau into the National Employment Authority. It mainly provides for a comprehensive institutional framework for: employment management; enhancement of employment promotion interventions; and increasing access to employment by the youth, minorities and marginalized groups and for connected purposes.